Tag Archive for: Engagement Summary
The What Works team started working with Waypoint several years ago when we were still working as the JumpStart...
While Raintown Dog Training excels at teaching "man's best friends" they are also skilled learners and put a huge...
Engagement Summary: Bloom Technical WhatWorks started working with Bloom Technical in the months before our official launch and we've...
Search The Academy
---
Free Consultation
Looking for more traffic and clients through Google Search?
Do a quick assessment of your site and search presence.
Book a short call with you.
Present our findings in an educational manner with zero sales pitch

We guarantee you'll find huge value in our call - if you don't feel like you did, coffee is on us in the form of a $20 Starbucks Gift Card
---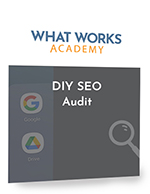 ---
Marketing Themes:
Marketing Lessons:
Website Lessons:
Tech Basics Lessons:
Topics - All Membership Types: