It is critically important to understand how your site is performing in Google and know if there are any serious site issues.
Luckily, you can get this information straight from the horse's mouth using Google Search Console.
Google Search Console is free, so you'd think everyone would use it, but that's not the case. Only a small percentage of folks have it on their site and even fewer use it regularly.
Like most Google tools, it can seem a bit complicated, but once you get familiar with it it's actually quite straightforward and very insightful. You can sign up for Search Console here. This page also has a handy tutorial for verifying your site ownership (the one slightly challenging element of the setup).
Let's have a look at some of the top reports in Google Search Console and what they are used for.
The Performance Report

This report shows us how many clicks you got through Google Search in the last 3 months.
You can even see and export a full report that shows:
All the search queries (keywords) you appeared for.
How many clicks you got from each.
The Clickthrough (CTR) rate – the percentage of searchers who clicked on your result after seeing it.
The average position you appeared in the search results.
We usually export this report to Excel or Google Sheets so we can sort it to look at the different elements more closely.
Here's an example export: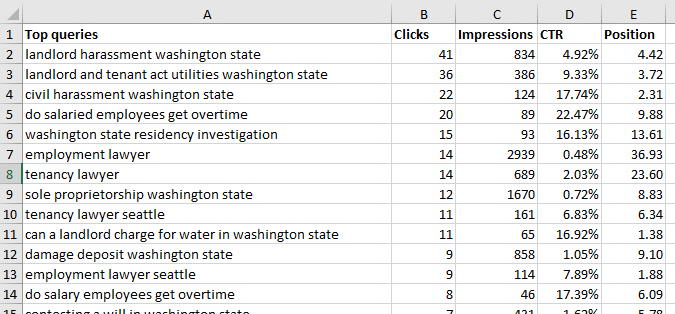 This particular export showed the 542 different keywords that got clicks through Google Search in the last 3 months, as well as almost 1000 total keywords that got impressions and appeared in Google Search.
There are some great insights here as to what you're showing up for and, sometimes, what you're not showing up for.
The Indexing/Pages Report
The Indexing/Pages Report is ridiculously important for seeing if your site is healthy in Google's eyes.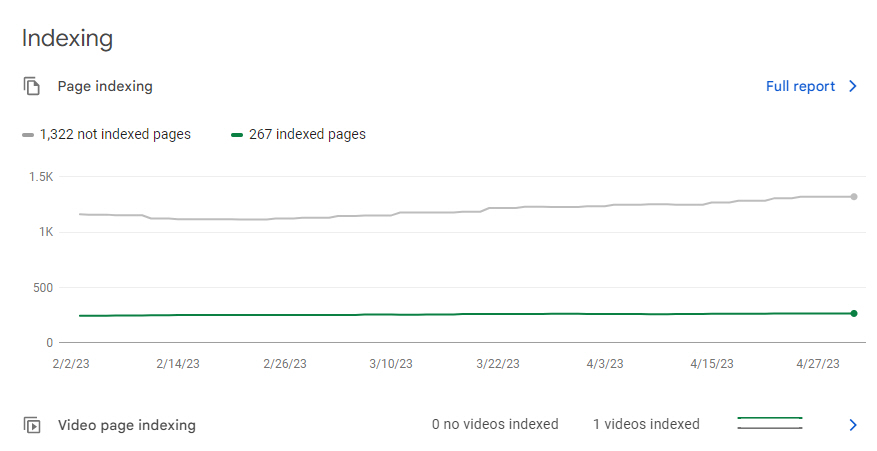 It shows you how many pages are indexed (showing up in Google Search) and how many are not indexed and are therefore not eligible to show up. It's worth noting that there are good reasons why not all pages are indexed, but most sites have some pages that should be indexed and showing up but are not.
The full report for Indexing also shows you the exact reasons why your pages are not showing up and even gives you the ability to request a review and reindexing of the site by Google.
For this area, see our in depth post about the different indexing error types.
Experience Report
The Experience report show you how you're doing for:
Visitor experience on your page (page experience)
Core Web Vitals (site speed and performance)
Mobile Usability.
It shows you if you're passing or failing in these areas and offers full reports for each of the three areas that provide insight for how to diagnose and fix each area.
Also, we've already written a more in depth post about the very important Indexing/Pages Report and we'll soon be posting more about the different reports and explaining it even further.
Still got questions about Google Search Console? Just ask!