Curious about all the elements of Google Search and where your best opportunities are?
Read on to learn about each component of Search as we go through seven of the areas that might impact your results.
Here's a glimpse of a typical Google Search results page: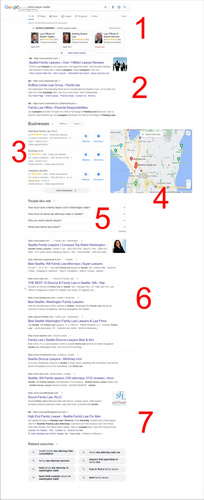 Here are some insight on each individual area:
1 – Google Local Services Ads

A relatively new phenomenon, these ads are not always displayed in search results but, depending on your market, they can be quite powerful when they do. 
They are managed independently of other Google ads and are quite straightforward to set up.
Note that these ads are available for most types of lawyers in the US, but are not yet available for lawyers in Canada.
2 – Google Search Ads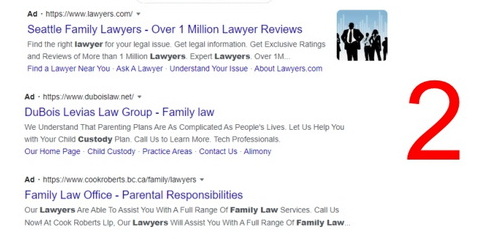 Google Search Ads have been around for decades and can be extremely powerful if set up strategically. 
They are quite challenging to set up well and are very competitive, so lawyers will typically need skilled professional help for these ads to profitably attract new clients.
3 – The Google Local 3 Pack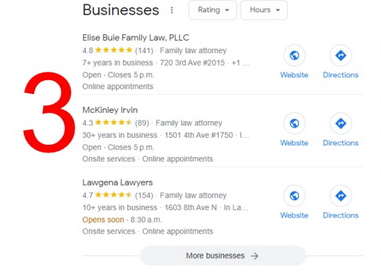 This "3 Pack" is powered by your Google Business Profile plus Google Maps. 
There are numerous factors regarding if and where you show up, but fortunately the biggest factor is proximity: the closer your address is to the searcher's location, the more likely you are to show up.
Search Ads may also appear in the 3 Pack.
4 – Google Maps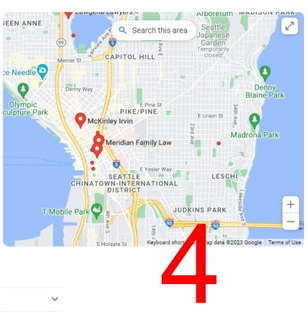 As long as your Google Business Profile is created and set to display your address, your business is eligible to show up in Google Maps.
5 – "People also ask"

If you have an FAQ section on your site or otherwise answer questions on your pages you may be eligible to show up in this section.
6 – "Organic" Search Results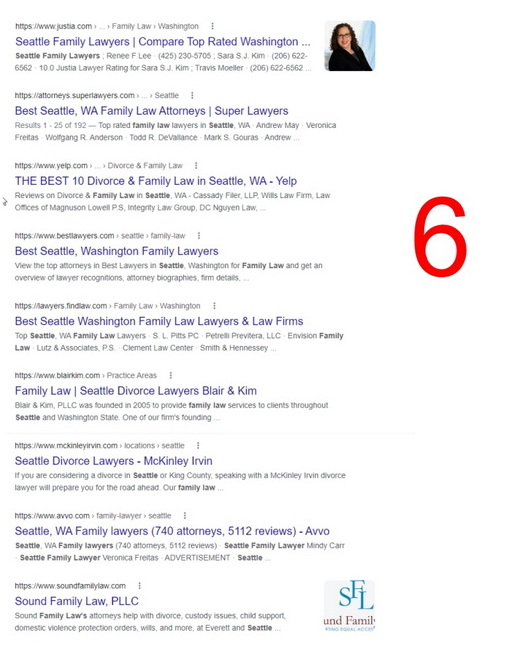 When people speak of "Search Engine Optimization" (SEO), they are usually talking about ranking highly in this area of the page.
By optimizing your site and following other SEO best practices you can dramatically affect your rankings in this area, particularly for niche topics and services.
7 – More Google Search Ads

More ads may appear in this location at the bottom of the page.
---
Google Demystified – The Anatomy of the Search Results Page for Lawyers