Your Google Business Profile (GBP) is the top asset you can leverage to show up in Local Search.
What's more, few companies fully flesh out all features of their Profile, even though it's very straightforward to set up.
As well, because it's location-specific, even the smallest companies can often compete effectively against the biggest firms.
Join us as we run through all the different parts of your profile so you can understand how it works and make the most of it to get more traffic.
Background
Born as a way of tagging your business on Google Maps (and formerly known as Google My Business), Google Business Profiles can be a fantastic way of showing up prominently when someone is searching for your type of services.
Here's what you need to know about Google Business Profiles (GBP) before we jump into the details:
Your profile is ridiculously prominent in Google Search – you can sometimes leapfrog companies that have spent years working on their SEO.
The most important factors for showing up are:

Relevance: whether you're a match for what the searcher is looking for in Google.

Proximity: how close you are to the searcher

Authority, which is based mostly on:

Having at least a reasonable number of reviews.

Having your site optimized for Search and having relevant supporting content.
Here's an example of the "3 Pack" that shows the top 3 Profile results: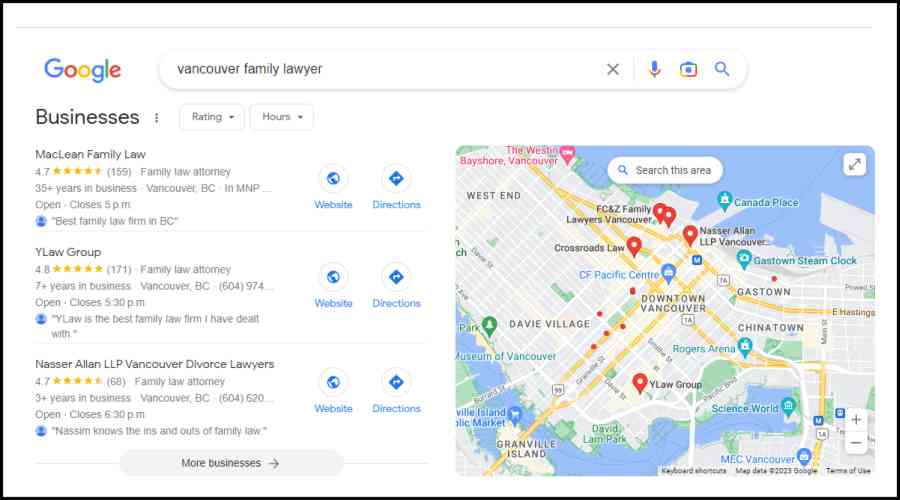 In Google Business Profile (like with the whole Google universe) you are rewarded by using as many of the features as possible. Many of the features may not have a significant impact with clients, but they still contribute to make your profile more prominent.
Most of the features are quite quick and easy to set up. They have the highest reward: effort ratio of any marketing task.
You should not use any features (like Chat) if you can't commit to supporting them.
1 – Photos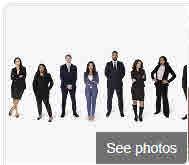 It's particularly important to flesh out your photos section as, otherwise, Google will populate this panel with images from Google Street View or user-submitted images (for instance, ones that are submitted with reviews).
It's also good to know that for most businesses, users rarely click into the photos section to look at them individually (so don't spend too much time agonizing over your photos).
In general, you'll want to upload:
A square logo (recommended minimum size of 750 pixels x 750 pixels). If your logo is more vertical or horizontal in size, you'll want to save it with a square background so that the file is square. Ideally you'll save and upload your logo as a PNG file with a transparent background, although you can also use JPEGs in Google Business Profile.
A "cover" photo, at a recommended size of 1024 pixels x 575 pixels or larger, using a 16:9 file ratio. This is the image that will show up most often and most prominently in your profile.
Photos of your products, team, vehicles, etc – whatever is relevant and will appeal to potential clients.
2 – Maps & Street View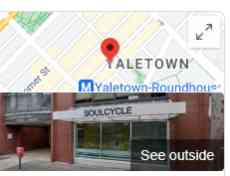 There's nothing you really do to influence this area. Google generally displays your address on the map (or service area if your address is hidden) plus a Street View image.
3 & 4 – Business Name & Logo

The name seems ridiculously simple, but it's actually extremely important. Time and time again we'll see companies that are slightly inconsistent with their naming practices. Google Business Profile is your most important business listing in Google's eyes, so decide how you want your business name to appear here and then consistently use that name in all other locations (Yellow Page, Facebook, etc).
Also, if you have multiple locations, don't name them differently.
If you've uploaded your logo, Google may show it here. For the best chance of it showing up, use the recommended PNG format when uploading your logo.
5 – Standard Links
Your website, directions, save and call links. The "save" button is rarely used but gives the following options:

6 – Review Summary

We could dedicate an entire post to Reviews, but for the purposes of this guide you simply need to know that:
Having at least a few reviews is important or Google may not consider you to be a legitimate business.
Over time you'll want a strategy to have a as many reviews as possible.

Never resort to any artificial tactics to get reviews (Google has the ability to detect false reviews and your GBP's prominence may suffer if this happens).

You should make an effort to reply to all reviews.
Not all reviews need to be 5 stars. In fact, it may look suspicious to Google if you have nothing but perfect reviews.
Ideally, you'll build a responsible review strategy into your customer communications process.
7 – Business Type
Within GBP you'll have the option of picking your business type from a list of options. Be as specific and relevant as possible with your selection, noting that if you offer a range of services you may have to pick a fairly general description like "lawyer" rather than a more specific description like "family law attorney."
Again, especially as a smaller business, the more specific you can be, the more prominent you will be when someone does a relevant search in Google.
8 – Address, Phone & Hours

The only option for your address is whether to show it or not.
If you choose not to show it, Google will instead show the service area that you've specified.
Unless there's a very important reason to hide your address you should display it as it makes you more prominent for nearby searchers.
Your phone must be displayed.
You set your own hours and it's very important to do so if people visit your place of business.
9 – Questions & Answers

This section is very similar to the "People also ask" section in Google Search although is meant for questions specifically about your business.
It's worth noting that you can't ask your own questions – they need to be asked by someone who is not managing the account.
Answering questions that are asked in this area is very important!
10 – Popular Times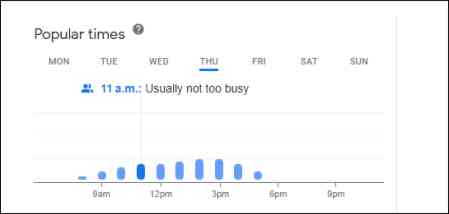 If you have enough foot traffic to your location, Google will display this panel.
11 – Send to Your Phone

This feature allows desktop visitors to your Profile the ability to send a Profile link to their phone. This is usually in the case of someone who is going to come visit you and wants your info and location (and directions link) on their phone.
12 – Reviews from The Web

This can appear if you have reviews on other platforms like Facebook or Yellow Pages and is great for establishing trust and credibility.
Having consistent business naming (see above) on all platforms is a "must" if you want this to appear.
13 – Reviews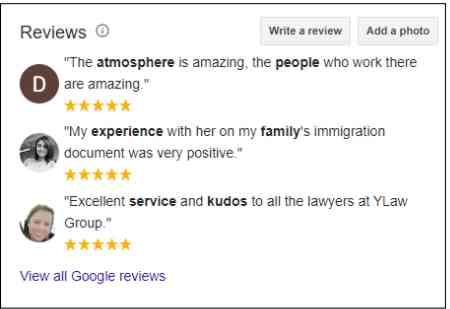 This area showcases three of your Google Reviews and provides a link to all your Google Reviews.
See the notes in "Review Summary" above for more info.
14 – Business Summary
This area displays your business summary information if you entered it in your profile. It typically doesn't get a lot of attention but it's very important that you include it and write a compelling description of your business for when folks do read it.
15 – Posts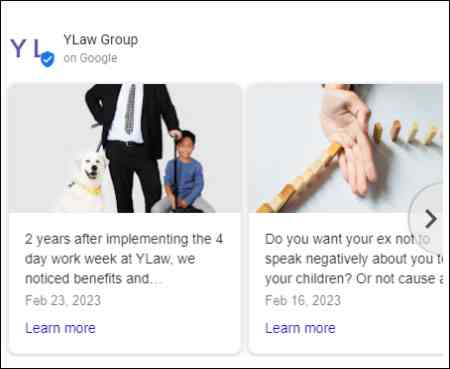 To be honest, few people read these posts.
That said, if you are posting elsewhere it takes only a few moments to add a post and it's a great "sign of life" to visitors and Google.
Also, if you do blog posts, you should take a moment to add links to these posts in your Profile posts as it deepens the connection between your website and profile and relevant links will help strengthen your prominence.
16 – Profiles

If you've used consistent business naming conventions across your active properties, Google may automatically show those other properties in this location.
---
Looking for Assistance?
If you want professional help in any or all of these areas, we're here for you!
Simply contact us and we'll:
Do a quick assessment of how your site stacks up in the above areas and identify opportunities.
Book a short call with you.
Present our findings in an educational manner with zero sales pitch.
We guarantee you'll find huge value in our call – if you don't feel like you did, coffee is on us in the form of a $20 Starbucks Gift Card.